It is Friday night and last minute decision of mine that I want to have a giveaway on this blog. I know it is Friday so let's make it fun just like the title with triple F letters. All items are brand new,
cell phone charm
is made by me. Prizes worth MYR$100 to be won.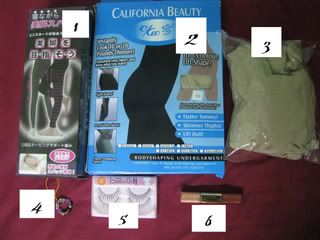 One lucky winner gets it all
1. Slimming Pants from
name sherry
2. Multi function slimming pant from
isherrygo
3. Waist emphasis version slimming singlet without box from
lureverything.com
4. Cell phone charm from
love and thoughts
5. Faux lashes from
kissmi
6. Elizabeth Arden lip gloss from
sherryever
Above number 1 to number 3 I purchase online from forum but the sizes not suitable for me.
How to take part in this giveaway?
1. Be a Follower of Google Friend Connect on the right bar. (Compulsory)
2.
Blog this giveaway
at your blog. (10 points)
3. Add
name sherry
to your blog roll. (2 points)
4. Add
lurvevertyhing.com
to your blog roll. (2 points)
5. Add
kissmi
to your blog roll. (2 points)
6. Add
Love and Thoughts
to your blog roll. (2 points)
7. Add
Sherryever
to your blog roll. (2 points)
8. Comment in this post with your Follower id: , url of the giveaway, points you collected.
All comments under moderation.
This giveaway open to blogger local and International, giveaway ends on 20 June Sunday, 2010 at 9pm (Malaysia Time). Just one winner so good luck to you!
Winner will be chosen using random.org. Check out the
participants with their points here
.