speech by Mr. Satoru Nishimura, Regional Marketing Manager, Fujifilm Tokyo
Fujifilm Corporation, a forefunner in nanotechonology is redefining anti-aging skincare with its newly updated ASTALIFT Moisture Lotion. The high-function lotion contains a new composite ingredient, CL Refresher, which is designed to make your skin elasticity firm and refreshingly supple. I am in my mid 30s, I know its important to take care of skin care. Thank you Fujifilm for inviting me to the event.
"The new and improved ASTALIFT Moist Lotion features a revolutionary discovery of a proprietary ingredient that can inhibit the degradation of collagen," sad Mr. Satoru Nishiruma, Regional Marketing Manager, Fujifilm Tokyo.
Introduction of ASTALIFT Lotion by Ms Yumiko Komiyama, Traning & Marketing Support FUJIFILM Tokyo
Throughout the years, most studies on collagen focused on increasing its production, but little progress had been made on the impact of degraded collagen on the dermis. Fujifilm began researching the mechanism of collagen regeneration and discovered that collagen that becomes degraded and fragmented due to damage from aging and UV rays can build up within the skin, reducing its firmness and elasticity.
"In order to keep the skin firm and elastic, it is necessary to break down fragmented collagen fibrils and generate new ones, explained Ms. Yumiko Komiyama, Manager of Training and Marketing Support, Fujifilm Tokyo.
"Lines" which annoys you perhaps the pillow marks, glasses line, mask line, cheek line.
An average age to recognize pillow mark is at 37.9 years old.
Check out the photos below which I have taken on the date launched last week. I have also upload to my
facebook album
,click on the link to view it.
Based on its findings, Fujifilm successfully developed Nano Vitamin Ax, a proprietary ingredient that promotes the skin's collagen metabolism. Nano Vitamin Ax combines Vitamin A with the antioxidant astaxantin to produce nanoparticles of the world's smallest level of 50 nanometers, dispersed in solution to form a nano-emulsion.
Launched of ASTALIFT Moist Lotion
Further efforts by Fujifilm to promote collagen regeneration led to the discovery that adding collagen peptide to Nano Vitamix Ax would increase its efficiancy. The new ASTALIFT Moist Lotion contains the composite ingredient, CL Refresher which combines Fujifilm's proprietary ingredient, Nano Vitamin Ax with collagen peptides to clear the skin of damaged collagen to firm and moisture the skin.
By using multiple moisturizing ingredients in an optimum balance, Fujifilm was able to create a unique "Most Up Texture" that allow you to feel the beauty ingredients penetrating through all corners of the skin while hydrating the skin.
The new ASTALIFT Moist Lotion uses the "Smart Refill" refillable cartridge system, designed to keep the pump tube unexposed during the refill process to ensure hygiene and prevent spillage. The refillable container reduces the use of plastic from previous models by approximately 60& and comes with a carbon offset credit to further reinforce Fujifilm's environmental initiatives.
According to Satoru Nishimura, the new ASTALIFT Moist Lotion is the first product to take advantage of the Smart Refill system which will be implemented by other ASTALIFT products in future to enhance the company's efforts to counter global warming.
Photo above consists of products Jelly Aquarysta, Moist Lotion, White Essence Inlift, and Perfector Protector SPF50.
From left, Jelly Aquarysta, Moist Lotioin, White Essence Inlift, then Perfector Protector SPF50
After a week of using the ASTALIFT products as mention above, I find them suitable for my combination skin. Just pump once on palm to use on face on day and night after using the cleanser then the toner, then Jelly Aquarysta, then the Moist Lotion, White Essence Inlift, then Perfector Protector SPF50.
ASTALIFT Moist Lotion is suitable for my combination skin, there's no irritation on my skin.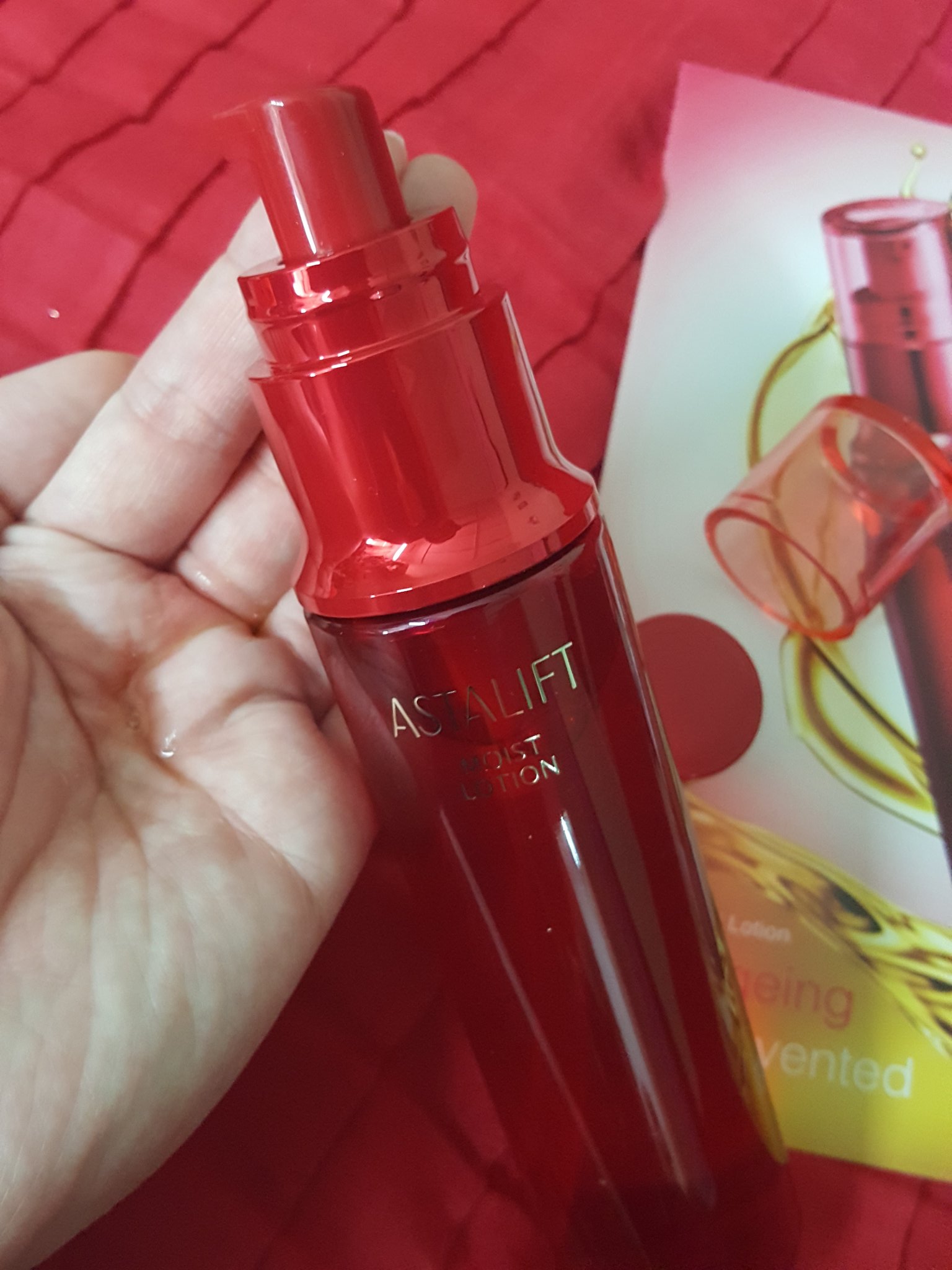 ASTALIFT Moist Lotion, pump once for each usage day and night.
Fujifilm continually taps into cutting edge core technologies developed over the years to provide a distinctive range of products that met the needs of many people, thereby contributing to beauty and human health.
The all new ASTALIFT Moist Lotion is priced at RM148 for 130 ml, inclusive of 6% GST. Yeah the size of it is just like above photo where I'm holding the bottle.
ASTALIFT Moist Lotion will be available in Malaysia by 31 October 2016, for more information on this product you can visit www.astalift.com.my